Submitted for the approval of the midnight society nostomanic readers:

Another Bad Creation.
T
hese kids couldn't be more adorable if they were holding koala bears that were holding kittens that were wearing glasses.
ABC, the teeny, tiny overalls-with-no-shirt-donning proteges of Boyz II Men and Bel Biv DeVoe, were popular during that all too brief period in the early 90s when Atlanta-based little boy rappers were kewl (See Kris Kross.) But as far as my heart's concerned, these kids will always be super legit.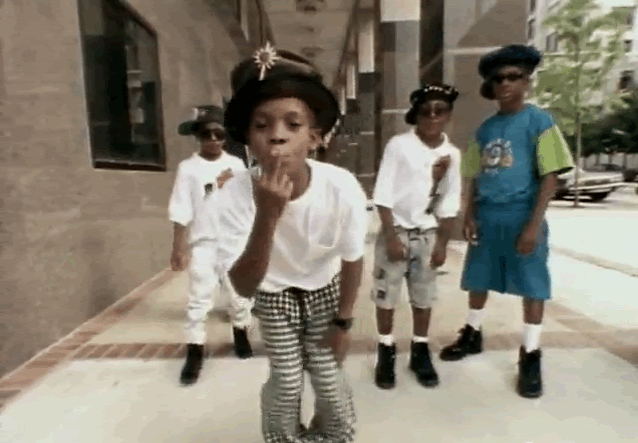 Their biggest hit, "The Playground," was a delightful little "ghetto swing" number about "chillin' in the pizzark" and being "home by dizzark." I, however, prefer "Iesha" as the song has so much to teach us all about romance.
The ABCs of Love
If you're looking for "the one," trade the singles bars in for the monkey bars.
(Check your potential love interest's ID, though. No one's endorsing an underage, jungle gym fever scenario here.)
Ladies, never underestimate the allure of a simple pair of biker shorts.
Spandex is especially effective when courting go-kart enthusiasts.
Planning a date? Skip the fancy restaurants and invite him/her over to your crib. After all, that's where your Nintendo is.
You're also going to want to make sure that you have a sandwich platter with, like, five or six huge bologna sandwiches on it.
Stroking a girl's chin isn't totally creepy.
It's only a little bit creepy. Go for it.
As much as I love "Iesha" and appreciate everything it's taught me about romance, my favorite ABC joint is "Spydermann." I wanted to post a music video for the song but, unfortunately, the group never made one. Fortunately, I made one. You're welcome.