I've been eating at that most Irishly-named of fast food restaurants for so long and with such frequency that my blood is infused with a tasty mixture of fry grease, special sauce, and shamrock shake--I'm single-handedly responsible for the rise in mosquito childhood obesity in my neighborhood. Growing up, McDonald's was two blocks away from my house, and while I'm sure I've dined beneath the golden arches more often than someone who didn't grow up with a McDonald's two blocks away from her house, I don't think that I've ever eaten there five days consecutively. (That isn't to say that I haven't eaten fast food for five days in a row or seven days or fourteen days, etc.)
Because I'm all about imposing arbitrary food and behavioral restrictions on myself in the name nostalgia, I decided to eat a Happy Meal a day from Aug 16-Aug 20. I went into this thinking that it would be a small (albeit unhealthy) way of recapturing some of the joy of my youth. That didn't happen. Joy eludes me and also probably alludes me.
Happy Meal #1: August 16, 2010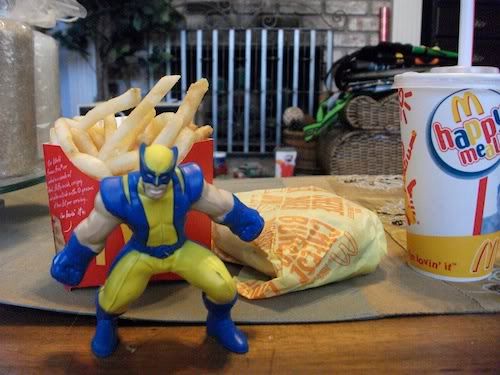 The girl behind the cash register stared at me like I was the first adult sans child to ever order a Happy Meal in the history of McDonald's.

I asked for a cheeseburger-Happy Meal and she said, "You mean the bigger one?"

I don't know what she meant by "the bigger one" but I said, "uh, just a regular Happy Meal with a cheeseburger." Dumbfounded and no doubt questioning everything she'd ever held sacred, she pressed the buttons on her register and handed me my microscopic soda cup.

When my food was ready, a lady--a manager this time--asked me if the Happy Meal was for a boy or a girl. As a kid, I dreaded this question--I wanted the "boy" Happy Meal because the toy was always better, but felt obligated to get the "girl" Happy Meal because I didn't want to be subversive.





Anyway, I said to this woman, "Let's go with the boy Happy Meal," in a self-assured, jovial voice but for some reason refusing to use the first-person singular. When I got home, I was glad that I'd been able to find the strength to rage against stupid social mores and outdated gender constructs because I got a really sweet Wolverine toy with retractable adamantium/plastic claws.


The food was delicious but small.





McHappy O' Meter
Happy Meal #2: August 17, 2010
I saw through the glass door that the same girl who'd been working the register yesterday was there again today. Fearing her blank but somehow still judgmental stare, I took two steps away from the building, thought about walking home, but then just went in. I had my heart set on one of those Lilliputian-sized cheeseburgers.
When the chick gave me my food, she asked if I wanted the toy. Not if I wanted a "boy" toy or a "girl" toy, but if I wanted a toy at all. The toy is the most essential part of the Happy Meal, right? Without the toy, it's just a Tiny Unsatisfying Meal.
It was such an unnecessary question, that I'm forced to believe that in her own, subtle way, she was trying to tell me that I was too old to be ordering Happy Meals for myself. I said, "Yeah, I'll take the toy," and she drops a "girl" toy in the bag without first consulting me.
The next time I go in there, I should ask her for a "boy" toy and see what happens. Or maybe I'll ask for a "boy" toy and a "girl" toy and justify it by telling her that I'm a hermaphrodite (or the more colloquial, she-male).
My fries were a little warmer than they were yesterday.
McHappy O' Meter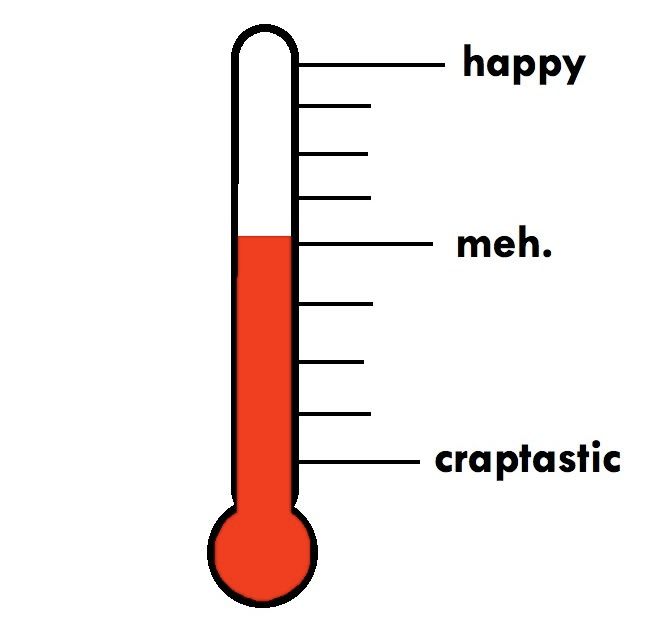 Happy Meal #3: August 18, 2010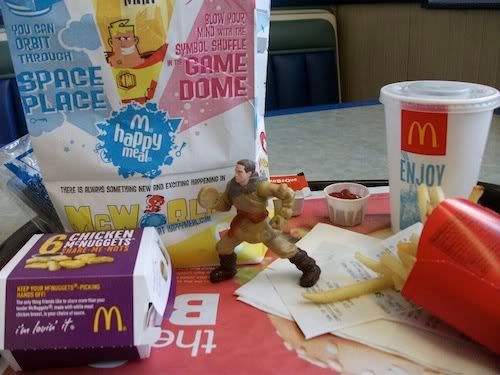 I went to an exotic McDonald's today--the McDonald's on the other end of town! The people were cooler there, less critical of my new lifestyle. And by "less critical," I mean, totally indifferent. The woman at the register took my order without batting an eye.
For my entrée, I chose the six-piece chicken McNuggets.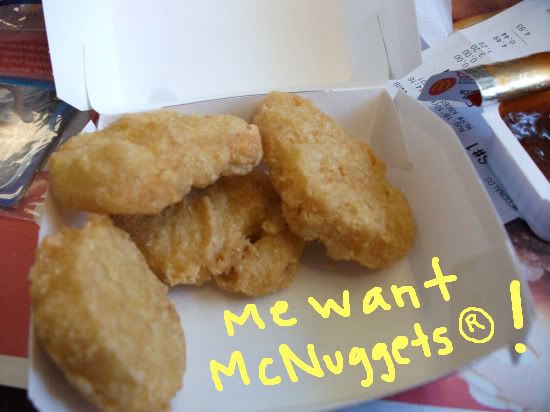 The food was palatable, my soda cup was bigger, which was nice, and dunking the McNuggets into the BBQ sauce was entertaining. But not too long after eating, I became nauseated. I'm not blaming the food, but, yeah, I'm blaming the food.
McHappy O' Meter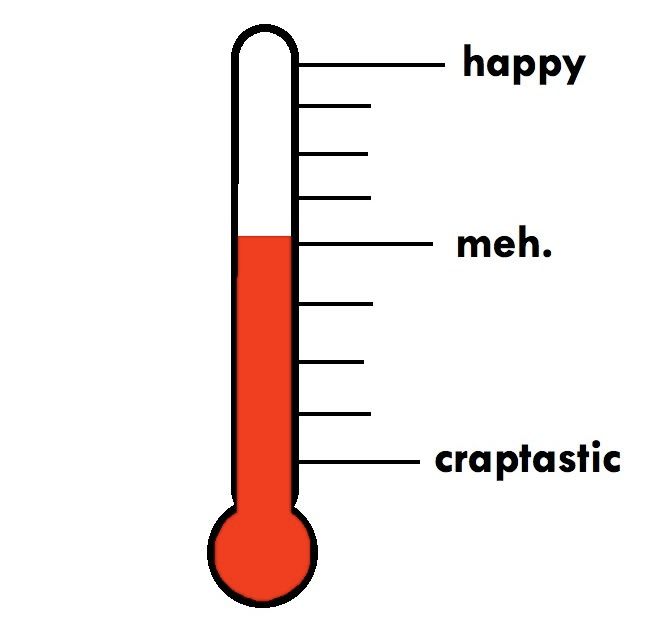 Happy Meal #4: August 19, 2010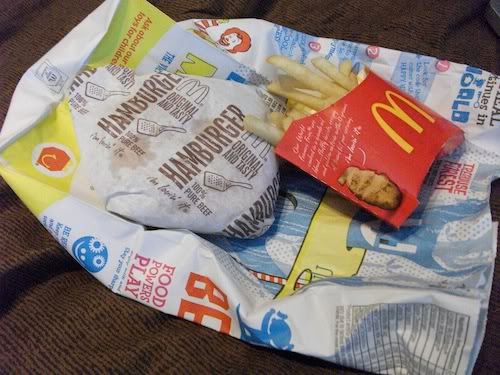 Super Size Me, didn't change my opinion of McDonald's. If anything, it made me want a Double Quarter-Pounder with Cheese--the most delicious and math intensive burger on the menu. But yesterday's nausea has made me suspicious of the food. Nevertheless, I will soldier on.
I'm back at my local McDonald's today, but decided to go earlier so as not to run into that girl from days one and two of this experiment. And it works. She isn't there and the lady who takes my order gladly gives me my "boy" Happy Meal. Well, maybe not "gladly," but definitely apathetically, and that's just as good to me.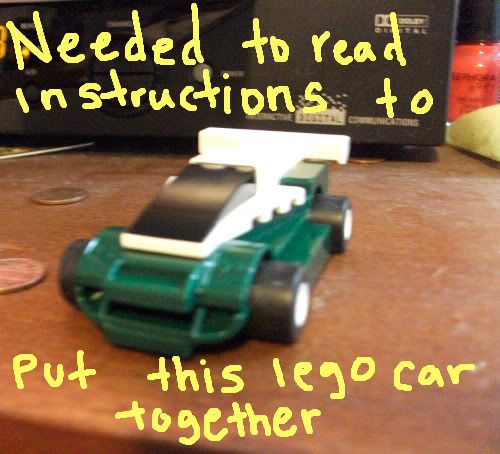 McHappy O' Meter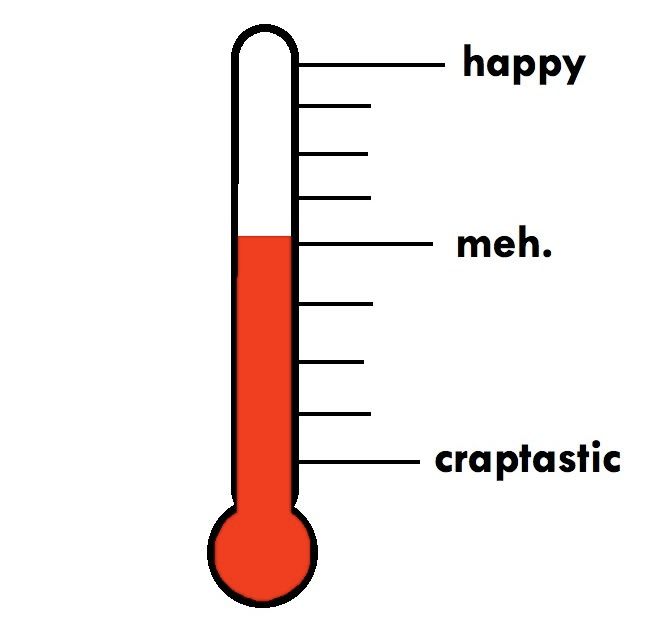 Happy Meal #5: August 20, 2010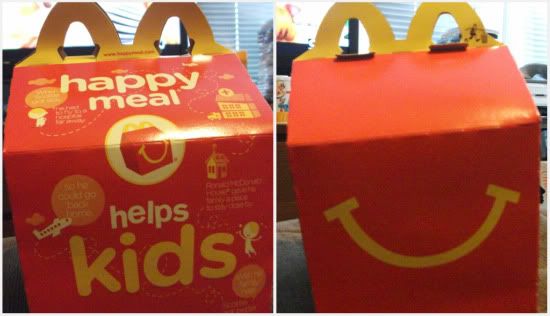 I headed over to McDonald's at 10:30am--this is, of course, when they start serving lunch and fascistly refuse to sell anyone a sausage biscuit, even though it's well within their power to do so.
I cursed my horrible, horrible luck when I saw that my archnemesis--The Traditional Gender Role Enforcer--was behind the register again.
For the first time, she asked me if the Happy Meal was for a boy or a girl. I raised an eyebrow and said "boy," wary of her new, seemingly progressive attitude. When I got home, I wasn't at all surprised to see that she had slipped a "girl" toy into my Happy Meal.
Truth be told, I admire how diabolically devoted this chick is to making sure that girls get girl toys, boys get boy toys, and adults feel weird for ordering Happy Meals. But I'm also royally pissed because the toy she gave me was this creepy Madame Alexander doll, which I'm probably going to have to bury in the backyard because it terrifies me.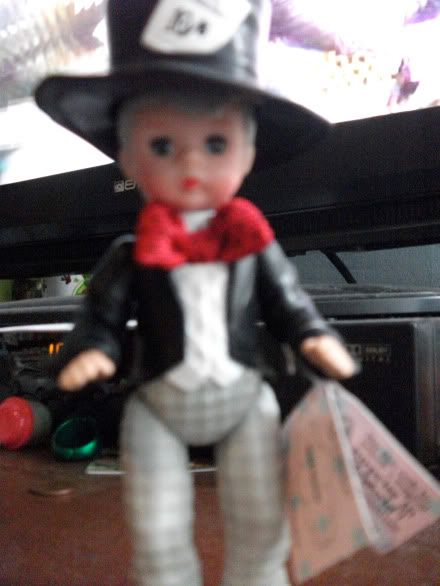 McHappy O' Meter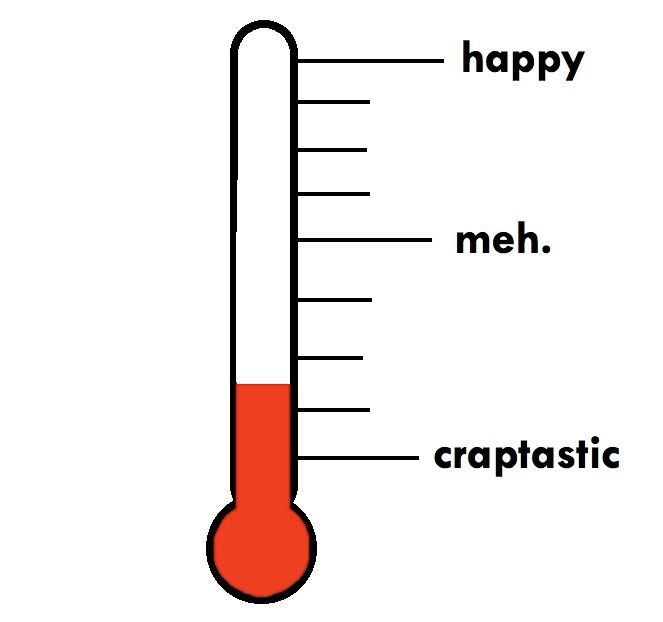 Epilogue:
I didn't gain or lose any weight; the pimple I had on my chin at the beginning of the week is still there--so Happy Meals have no magic, pimple-curing properties, despite what you may have thought; that Madame Alexander doll is still in my house and last night, right after blinking it's creepy doll eyes, assured me that it would be swallowing my soul within the next week or two.
(note: I didn't subsist on an all-Happy Meal diet, I merely incorporated them into my regular feeding schedule. I feel like I should say "don't try this at home" or whatever. But it's your thing. Do what you wanna do. I can't tell you who to sock it to.)