I'm a collector of toys, books, comics, burritos, and Star Trek memorabilia. I used to study the World Almanac. When I really dig a movie, I'll watch it over and over until I know every line. I need my bedroom to be the way I need my bedroom to be! It only stands to reason that this sort of obsessive behavior would spill into my love life.
I say "love life" but what I really mean is "unrequited love life" because it wasn't until very recently that males started to find me attractive--my "awkward stage" refuses to just be a stage and insists on being my life. As everyone knows--either from personal experience or Lifetime movies--when unrequited love and obsession meet, the result is always stalking. So yeah, I stalked some dudes.
I stalked some in high school and a few in college. But my stalking heyday (and I'm talking about quantity and not the absurdity or craziness of the stalking) was in middle school. Most of these guys were in my band class, which just adds another layer of pathetic to the whole thing.
I always operated at the creepy but harmless level and, thankfully, never ventured into those treacherous I'm-super-psychotic-and-if-I-can't-have-you-no-one-can waters. But still, I stalked a couple of guys pretty hard--and these were in the pre-Google/Facebook days, so if you were going to stalk someone, you actually had to go out into the streets and do the leg work.
The middle school stalkees nearest and dearest to my heart are Kris C., Brian, Michael, and Chris P.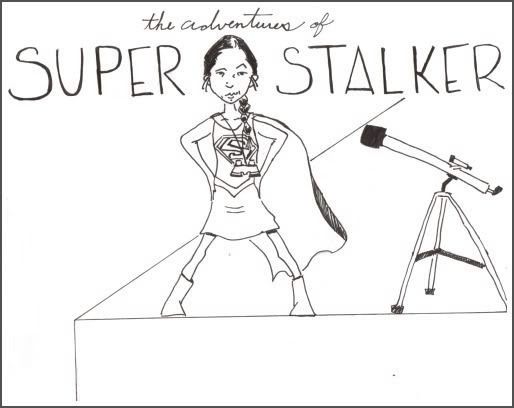 Height: Shortish
Hair: Brown
Eyes: Hazel
Instrument: Trumpet
Year of Crush: 8th Grade
Intensity of Crush: Super Kamehameha
Intensity of Stalking: Mild
The Lowdown: Kris was a "rocker" which meant he wasn't a "rapper" or whatever. I don't know. The social hierarchies and nomenclature were weird in middle school. In any case, he wasn't popular, wore Airwalks, and was rumored to be a Satanist because one night before a band concert he was seen "worshiping the devil."

Contrary to popular belief, Kris was extraordinarily sweet, probably the sweetest boy in our grade, and a lot cooler than almost everyone else in our school. He was also gross. But in a hot way. You know, like Johnny Knoxville. He once had me watch him shove an entire Q-tip up his nose. Swoon!

The Stalking: By the time I started to like-like Kris C. we were already buddies, so I really didn't have to stalk him that hard. But I did make a special effort to always be near him and even manipulated a friend into inviting him to a party that was originally supposed to be an all-girl affair. Every day after school I'd sprawl out on my bed, listen to "All My Only Dreams" from the That Thing You Do soundtrack and cry (literally) about how much I lurved him.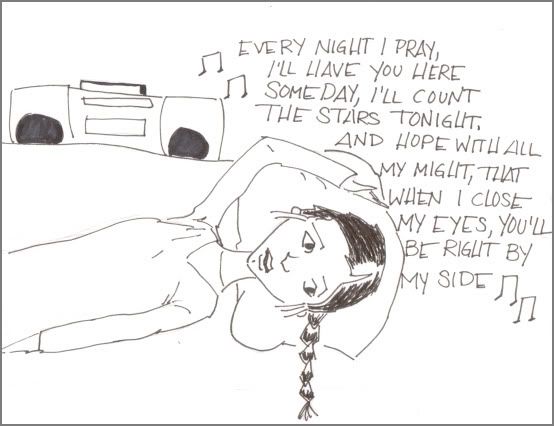 The Aftermath: In true middle school fashion, I had someone tell him that I liked him. He said that he only liked me as a friend. Naturally. After middle school he moved to Virginia or something. We're friends on the Facebook.



Brian


Height: Mediumish to Tallish
Hair: Black
Eyes: Brown
Instrument: Clarinet
Year of Crush: 7th Grade
Intensity of Crush: Super Kamehameha
Intensity of Stalking: Hardcore

The Lowdown: Really, there wasn't anything noteworthy about him but I think he smiled at me once during P.E., which was enough to seal the deal. In Eternal Sunshine of the Spotless Mind, Jim Carrey says, "Why do I fall in love with every woman I see that shows me the least bit of attention?" I can relate to that shiz.

The Stalking: I'd rush out of class at the end of the day to make sure that I was halfway down Grand Ave. before Brian got his bike from the bike rack, and then I'd wait there for him. Once I saw his neon green bike off in the distance, I'd start walking, so it didn't look like I'd just been waiting there for him. When he passed me, I walked as fast I could behind him while trying not to look like I was walking as fast as I could behind him. I was going, like, six blocks out of my way just to make this happen because I lived in a totally different direction.

In addition to this, I had my friends report back to me on things they saw him do throughout the day. One industrious girl, Julie, found out that Brian had a big white dog and I treated this as if it were some crucial piece of intelligence.

One day, when I was following Brian down Grand Ave., he yelled, "Stop stalking me!" The friends who were with me laughed but I was incensed. How dare he accuse me of something I was so clearly doing?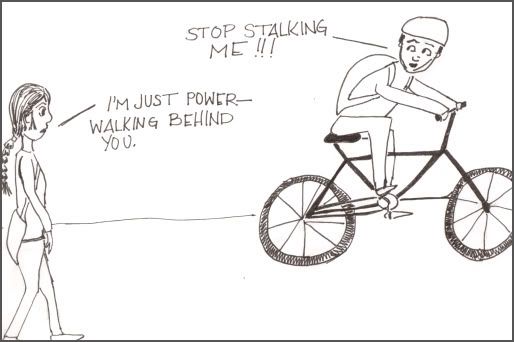 The Aftermath: I got over Brian the summer between 7th and 8th grade. After 8th grade graduation, my BFF peer pressured him into hugging me.

Michael
Height: Tall
Hair: Black
Eyes: Brown
Instrument: Not in band
Year of Crush: 8th Grade
Intensity of Crush: Pretty Intense
Intensity of Stalking: Moderate to Heavy
The Lowdown: Michael was one of those unbelievably adorable boys and was loved by all girls. He was a new kid and new kids are always ten times more desirable than all the old, played out kids you've known for the past couple of years.
The Stalking: There was a lot of your garden variety staring and lurking but the highlight was when I very cooly opened up the "Students of the Month" display case (which had fortuitously been left unlocked) and stole his picture.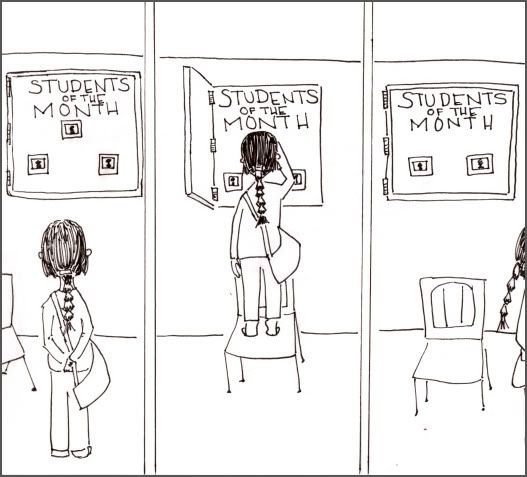 And....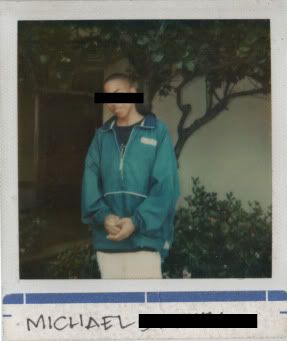 I still have it. Aaaaaaahhhh! I'm such a creep.
The Aftermath: The BFF developed a crush on Michael and he actually showed some interest in her. It almost broke up our friendship but I'm glad it didn't because that would've been super lame. I haven't heard anything about him since middle school.
Chris P.
Height: Shortish
Hair: Brown
Eyes: Brown
Instrument: Trumpet
Year of Crush: 7th and 8th Grade
Intensity of Crush: Super Kamehameha
Intensity of Stalking: Hardcore
The Lowdown: Chris P. had curly hair, a huge mole on his cheek, and a schnoz. I can't resist any of these things. Whenever I told someone that I liked him, they'd either ask, "Who's that?" or "That guy with the big nose?"
The Stalking: There were two shining moments in the Chris P. stalking:
(1) My friends in middle school were awesome but they were also enablers. One of them pulled some Ocean's Eleven crap, managed to figure out Chris P's locker combination, and then gave it to me. While everyone was in the lunchroom, I broke into his locker and saw that the green sweatshirt he wore every day was lying there, just waiting to be fondled. I grabbed it and sniffed it for a minute or two. In my mind, this was a victory, a major triumph, and it looked like this: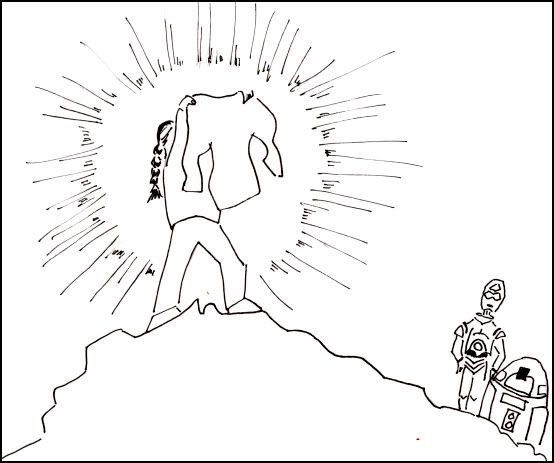 In reality, I'm sure it looked more like this: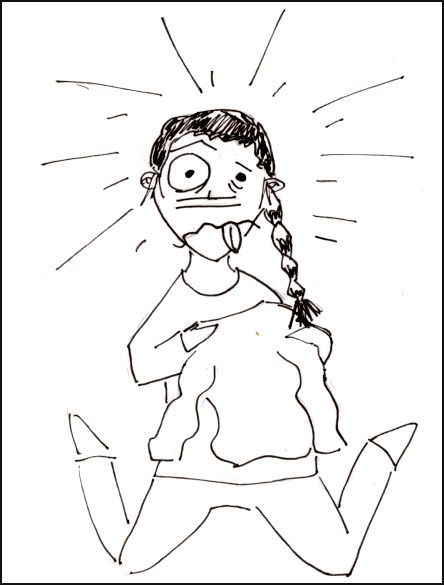 (2) During lunch, Chris P. threw away the paper baggie his french fries were in. After he walked away, I fished it out of the garbage can...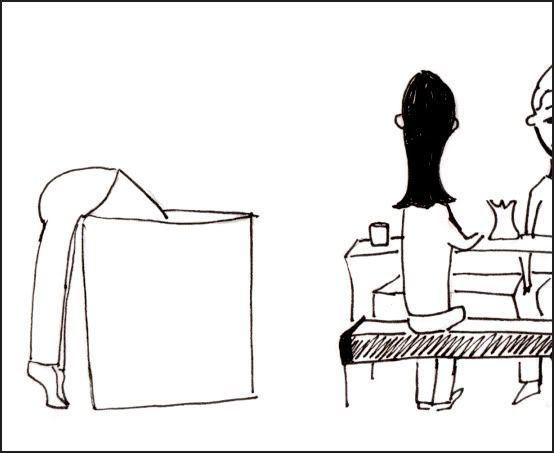 and kept it in a little box in my room.
The Aftermath: Chris P. and I became pretty good friends, probably because I got over the crush and never told him about the locker incident or the french fry bag. We went to different high schools and talked a couple of times on instant messenger. This is where things get a little weird. One night, when I was in 10th or 11th grade an instant message pops up on my computer screen. It says: "Hey, Sheena. Do you want to cyber?" Obviously he'd instant messaged me when he meant to IM this other girl we went to middle school with. I typed back, "Uh...what?" He promptly signed off.