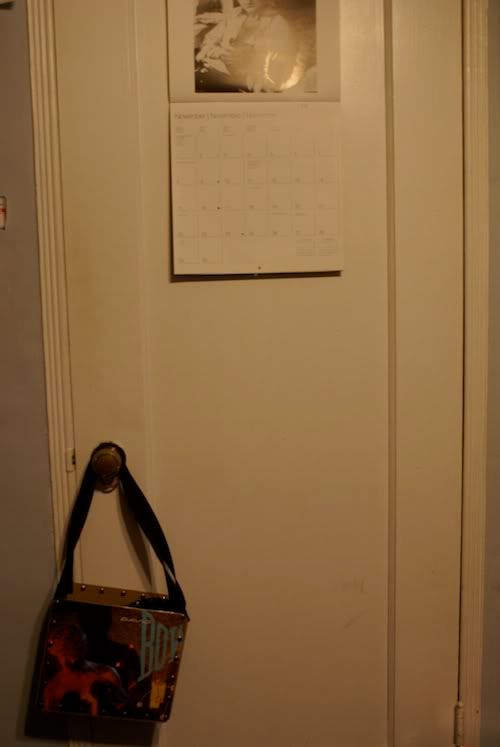 My secret shame is behind this closet door.
No, it isn't the junk precariously balanced on top of the other junk precariously balanced on top of the layer of junk I affectionately refer to as "The First Terrace of Mount Purgatorio."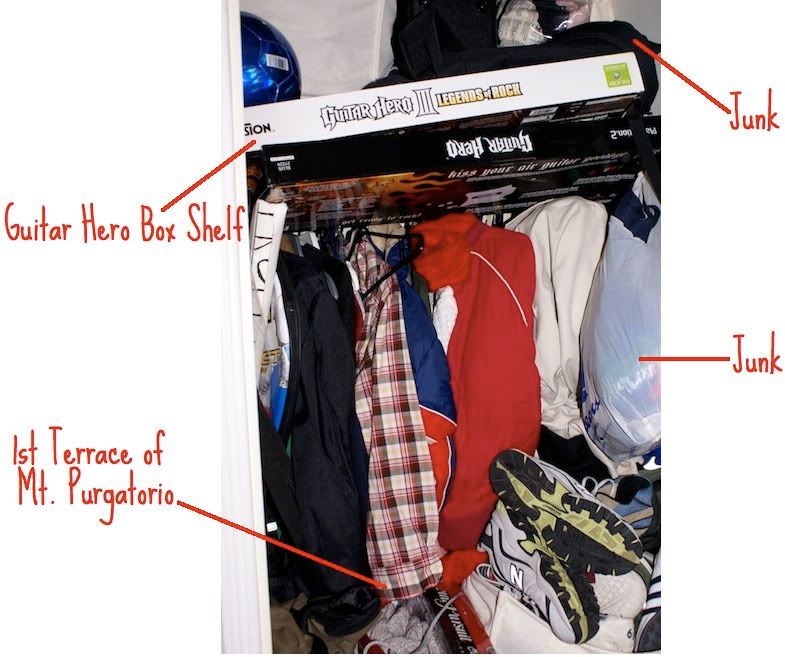 As a matter of fact, I'm rather proud of the way that I've managed to jam 30% of everything that I've ever owned into such a small space. And yes, I do believe that I should be given an architectural award for "Best Makeshift Guitar Hero-Box Shelf" and then another, supplementary award for the Jenga-master skill that I demonstrate every time I yank something out of the back of the closet without causing a "comical" junk avalanche.
My secret shame is this Ben Affleck collage or...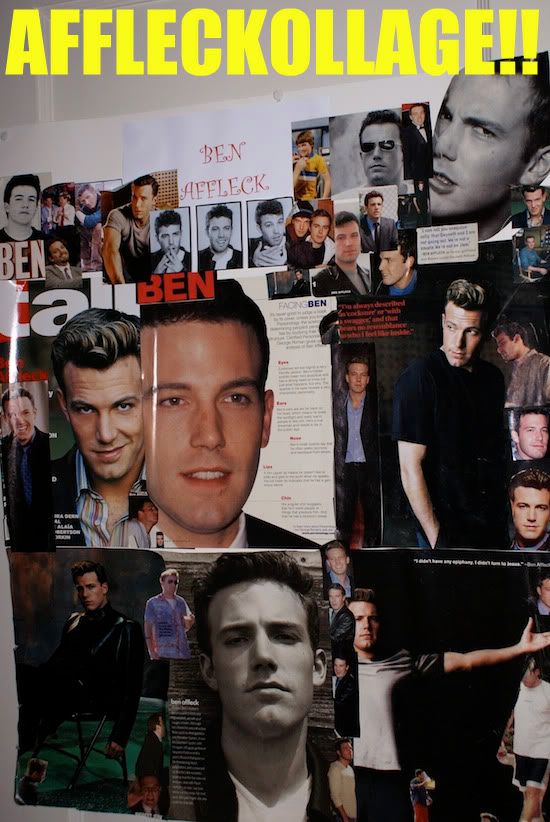 As far as secret shames go, this may seem a little tame. But just look at that thing. It's psychotic. There isn't any artistry, it's just a manic jumble of floating Affleck heads and bodies.
I created Affleckollage in 1999, back when I was a 16-year-old sociopath and even then I was ashamed of it. This thing terrifies me because I don't like Ben Affleck and never have! Who devotes an entire afternoon to methodically constructing a collage of a man she doesn't like? A crazy person, that's who. I'm sure there's some weird, wild-eyed cult leader with a similar collage (possibly of Casey Affleck) framed and displayed in his weird, wild-eyed cult leader foyer.
Because I don't dig "The Affleck" and think that almost everything he's done post-Voyage of the Mimi (including that time he kissed Jennifer Lopez's butt) has been pretty lame, I'd liken my relationship with Affleckollage to that feeling you get when you accidentally pee on yourself. Not the itchy wetness, though, now that I think about it, there is a little of that, but I'm talking about emotions, I'm talking about that intense combination of embarrassment and Eeyore-esque self-loathing (where you're like, "Oh no, I hope no one notices that I've urinated all over myself," while also thinking, "I'm such a loser. I don't even know how to use toilets").
Affleckollage isn't something that I wanted to make, it's something that I was compelled to make. It is--and this is hard for me to come to terms with--my heart's triumph over my brain.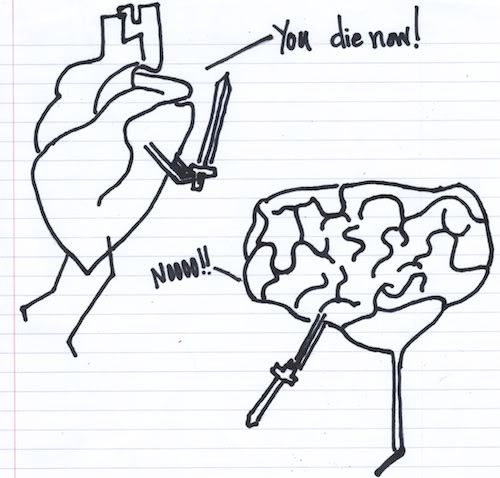 (Here is a very scientific diagram that I drew to illustrate the battle between my heart and my brain.)
You see, even though I say that I don't like Ben Affleck, a part of me must want to marry him and have 40 or 50 half Amber, half Affleck babies. This scares me.
Usually when I open the closet, I don't see Affleckollage--it's taped to the door, so my back is obviously turned to it--but when I do happen to catch a glimpse of the monstrosity, I experience several different emotions within about 30 seconds, a phenomenon that psychologists and Affleck scholars have labeled...
"The Seven Stages of Seeing The Affleckollage That You Created With Your Own Two Hands When You Were 16 Years Old."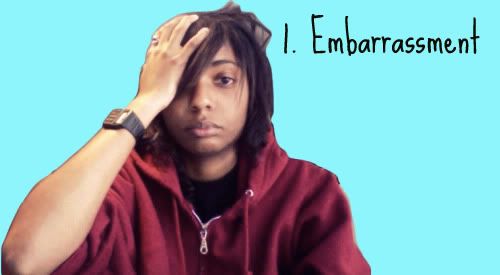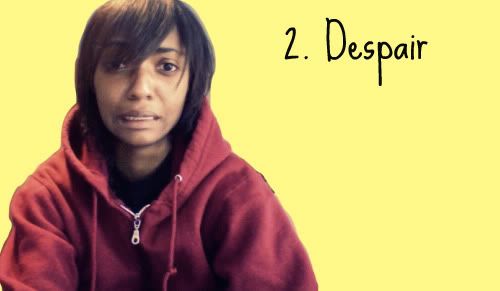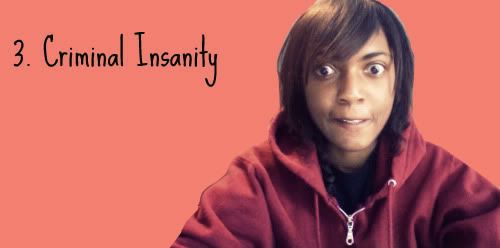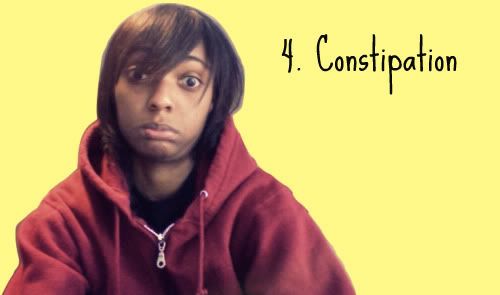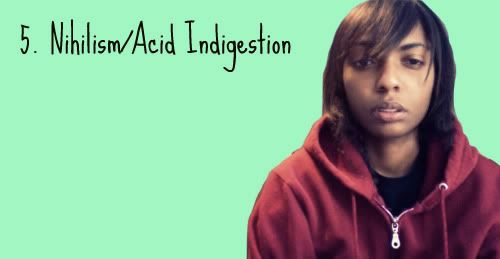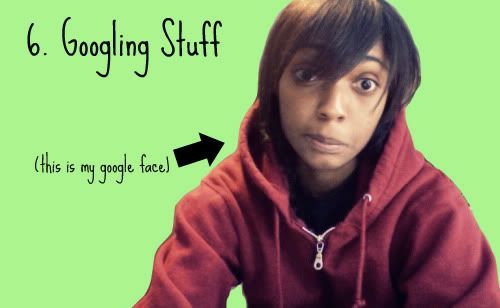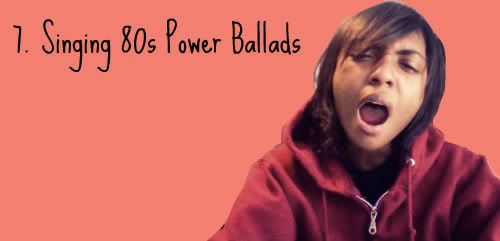 I know, I know, I know. You're thinking, "Amber, it's been more than 10 years, throw Affleckollage out and stop torturing yourself." But I can't. Affleckollage keeps me humble. Whenever I'm walking around town, wearing my designer jeans, feeling like awesome incarnate, I just think "oh wait, I have a Ben Affleck collage in my house" and remember that I'm not that cool.
Work was ultra boring yesterday so I drew this especially for you.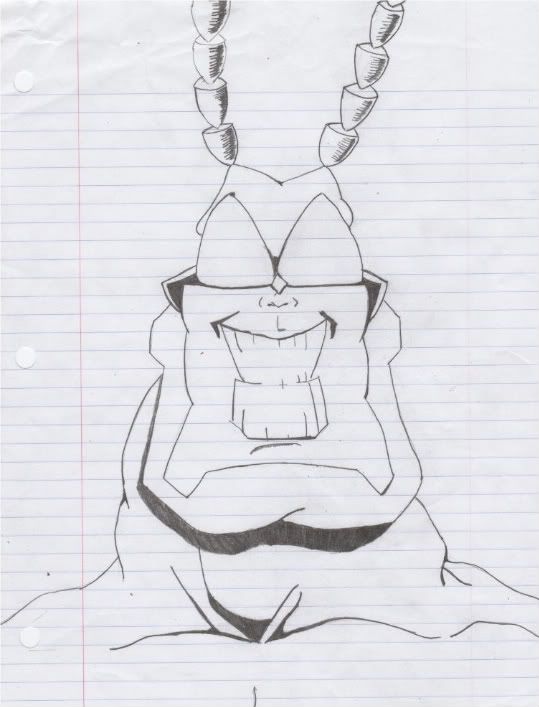 If you don't know who this guy is then you're making my heart sad right now. The only way for you to smooth things over is to give me buckets of cash.