This blog is a byproduct of my quarter-life crisis. (Though, I feel uncomfortable using "quarter-life" to describe my current "crisis" because the term seems presumptuous. Like, who's to say that it isn't a mid-life crisis? Or some other fraction that's greater or smaller than 1/4 that I can't even write here for you because I got a "C-" in Algebra.) I celebrate the past because things in the present are so totally stressful and frighteningly adult. But just blogging about old stuff isn't enough. So, in an attempt to reclaim some of the innocence and simplicity of my youth, I will be conducting a series of experiments in which I will very literally try to replicate my childhood in the present. Here is Experiment #1, which was completed this past Saturday.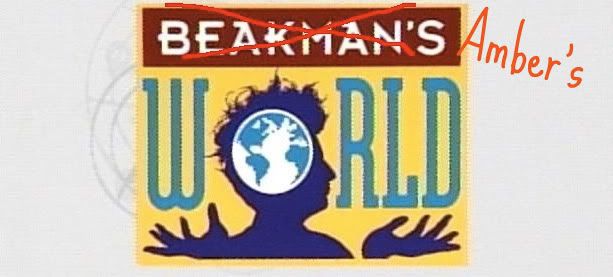 Purpose: Relieve some of the anxiety and stress brought on by mounting debt and career dissatisfaction by watching Saturday morning cartoons, which were at one time a highlight of my weekend.
Hypothesis: This crap isn't going to work.
The Subject:
Materials: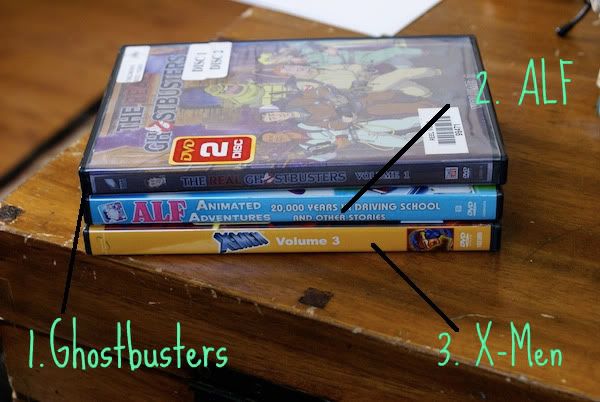 In a perfect world, Pepper Ann would've been incorporated into the morning's proceedings but the show hasn't been released on DVD yet and it was crucial that every cartoon be viewed on my television and not on my computer to minimize the effect of modern-day, result-shifting variables. I chose The Real Ghostbusters, ALF: Animated Adventures, and X-Men--not the most obvious line-up or even one that you might have picked but lay off me, okay? When you do the experiment you can pick the shows. Until that day, I do the picking.
My original plan was to eat a bowl of cereal as I watched cartoons (for optimum wholesomeness) but I forgot to go to the grocery store Friday night and the liquor store down the street was charging $5 for a dust-covered box of Fruity Pebbles--which I should have bought for authenticity's sake, since the box has probably been on the shelf since 1992. I opted, instead, to throw caution to the wind and eat a sugary, artery clogging glazed twist because that's what a kid would do.
Procedure:
Eat fattening breakfast goodies while watching classic Saturday morning cartoons. Record emotional response and immediate reactions.
Data/Observations:
Cartoon #1: Ghostbusters (1986-1991)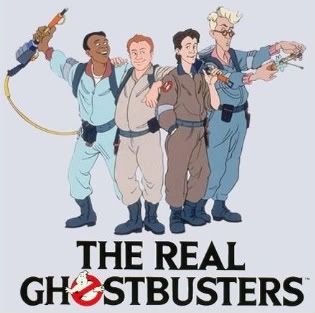 Field Notes: Watching this rekindled my preadolescent outrage over Slimer's transformation from a ghost the ghostbusters busted (in the movie) to their scrappy little mascot/pal. So, I suppose that's a minor step toward recapturing my youth. At the same time, it was hard for me to ignore the poor sound quality and the fact that Egon and Ray have blond and red hair (respectively) when they both had brown hair in the movie.
(these are Ghostbuster "action-figures" from my toy collection)
The doughnut was tasty, everything I remember doughnuts being. I haven't eaten one for a couple of months as I've been trying (though, mostly failing*) to eat more responsibly--I get sick all of the time and my mom (who is actually a scientist) says it's because I don't eat right. But immediately after inhaling the thing, I couldn't stop myself from thinking that I should probably do some sort of exercise later or at least eat a plate of broccoli for dinner to counter the effects of the doughnut. In keeping with the spirit of the experiment, though, there will be no exercise/broccoli and the doughnut will just have to congeal in my stomach with the massive burrito I had Friday night. I only had 3 or 4 sips of the orange juice because I think I've just realized that I don't like orange juice anymore. Sad.
Cartoon #2: ALF: Animated Adventures (1987-1989)
Field Notes: This wasn't too funny or even very entertaining and I couldn't stop staring at this guy's crotch: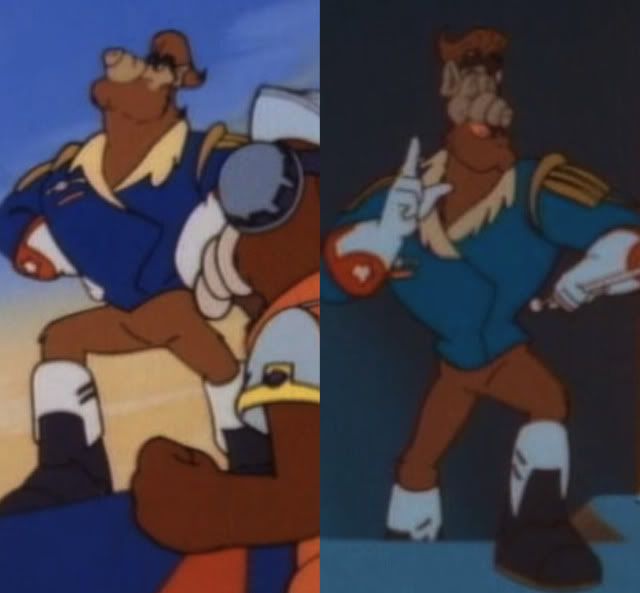 Judging from the way it's so gloriously displayed, I don't think that I was supposed to be ignoring it. I'd been antsy/anxious while watching Ghostbusters but the feeling began to subside while sitting through this. I don't know how to account for the change. Maybe there's some correlation between anxiety and animated alien crotch bulge. Probably warrants further investigation.
Cartoon #3: X-Men (1992-1997)
Field Notes: This was my favorite Saturday morning cartoon when I was in the fourth or fifth grade. Because each episode is rooted in the long-running comic book series, the show holds up. The opening theme song still gives me chills.
(I'm pretty sure I just provided you with the most epic 59 seconds of your day, possibly your life.)
In the time it took to switch the ALF DVD with this one, that non-specific anxiety from earlier returned. But then I noticed all of the crotches.
And when I saw Apocalypse's package, I started imagining what his apocalyptic junk must look like.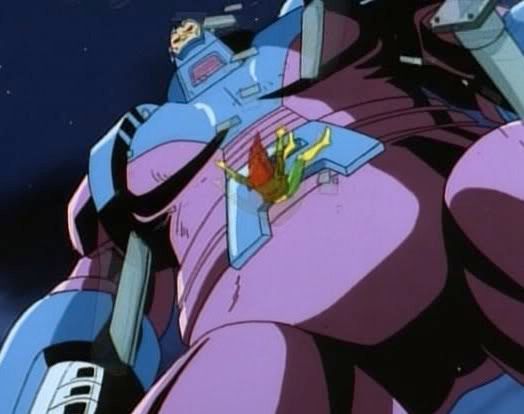 Then I became preoccupied with Rogue's large and inappropriate chest area. And yes, I was jealous.
(look how lovingly her boobs were shaded by the artist)
Conclusion: Are Saturday morning cartoons a stress reliever? Yes and no. It was almost impossible for me not to obsess over things--crotches, boobs, story flaws--that I was too innocent/dumb to pay attention to as a child. Nostomanic is all about scrutinizing old TV shows, movies, etc. as an adult and that's definitely fun. But it's also kind of depressing. It would have been nice to enjoy these cartoons in the way that they were meant to be enjoyed. With the exception of the X-Men episode, I had to mentally pick the shows apart to be entertained by them--which I think explains why I was so antsy.
However, there is something inherently relaxing about cartoons. The student loan people have been hassling me recently and when I think about the future and my credit score, the ridiculous amount of cash money I owe them weighs on my psyche. This experiment was diverting, maybe not a Paxil substitute, but an hour of mental calm is better than nothing. I still can't get over the orange juice thing, though. I know taste buds can change over time, but that's just weird.
---------------------------------------
*Things I've eaten recently: